HENNA BROWS a natural & vegan friendly treatment
Unlike standard tint, henna tints the skin in addition to hairs, and it is a natural vegan friendly product. The Henna fades faster on the skin, it is dependent on a client's skin type and how well aftercare is performed as to how long it lasts, it can vary from a few days to up to 2 weeks. It lasts a lot longer on the brow hairs between 4-5 weeks.
Henna Brows can create amazing oMBRE BROWS
The henna is left on the brows to develop for 10-30 minutes. A gorgeous ombre affect is achievable with henna to gradually blend in the tint in from the brow bulb for a stunning natural look. I have 7 henna shades and can mix these to suit each client.
Henna brows gives HIGH DEFINITION and INSTANT EYE LIFT effect
I map the brow in order to gauge the correct shape for each client. This allows for better definition of the brow and can raise the arch of the brow. Having perfectly defined brows the correct shape will give an instant lift to the eye.
brow Equipment Used
Henna tint with brow shaping utensils
HENNA BROWS Treatment Duration
Henna Brow Treatment - 1 hour
HENNA BROWS Home care RECOMMENDATIONS
I recommend the Henna Brow precision eye pencil to infill your Henna Brows between treatments. They are available in three shades and have brow spoolie on one end to comb brows into place.
HENNA BROWS Treatment Frequency
The length of time that the tint will last on the skin varies depending on a client's skin type and aftercare post treatment. It will last for 4-5 weeks on the brow hairs.
As the brow hairs begin to grow back in they will need tidied up and reshaped on a monthly basis.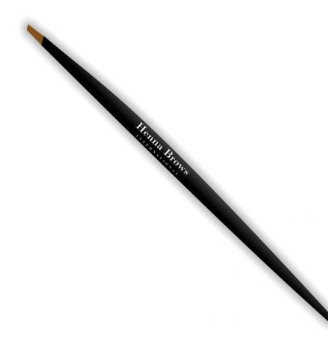 Dual ended Henna Brow Precision Pencil
Available in three shades, perfect for infilling between brow appointments
Henna developing, results are never as black as the henna tint
The results are much lighter than the henna tint whist it is setting
HENNA brows PATCH TEST REQUIRED
I will patch tested a small area behind the ear to check for allergic reactions.
There is a short medical history and lifestyle form to fill out to assess your suitability for henna brows.
Patch test must be carried out at least 48 hours before full treatment.
henna brows AFTERCARE - a QUICK GUIDE
Please avoid;
Any form of make-up or creams on eyebrow area to keep the tint on the skin for as long as possible (fine to use once tint as faded off your skin)
Excessive heat (baths/shower, hot tub, hairdryer) post treatment for 24 hours
Sun exposure natural or sunbed for 48 hours
skincare BLOG
For further information on my treatments check out my skincare blog
BLOG - Facial Hair Removal Results with Dermaplaning
BLOG - Micro-needling Dermapen vs Skin Dermaroller: Which is Best?