Facial Micro-Needling
Not Painful depending on Technique
It is not a painful procedure when using the correct technique. I have had clients describe a vibrating type of feeling from the automated pen and I have had clients fall asleep during a treatment! Others have described a 'prickly' type sensation, but I have never been told it is overly painful.
Micro-needling and the Fear of Needles
When I mention the name micro-needling during a consultation, I can see the mist descend, the look of fear in the eye, lol! But it's the word 'needle' that sparks visions in your head, there is a general fear of needles that resonates with many. Remember the key word here is 'micro' these needles are tiny and nowhere near the size of a hypodermic syringe, they are all contained within a disposable cartridge.
Significantly smaller than the diameter of a hypodermic syringe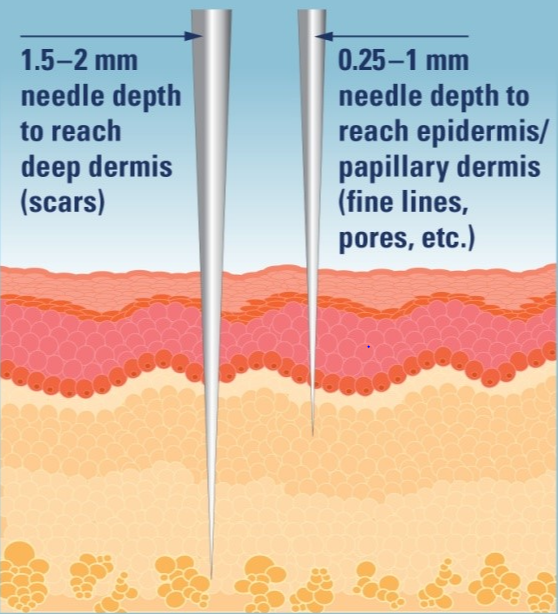 Top layer of skin is thin as a sheet of paper
Micro-needling Needle Depth
Deeper is not better! The top section of skin (the epidermis) is layered and only as thick as a sheet of paper!! The main processes I want to achieve during a micro-needling treatment is to create channels so the mix of serums I apply run down the channels (transdermal delivery), I also want to increase collagen production (collagen induction) and rebuild your old collagen matrix . To treat scar tissue, I do have to go a little deeper to the next section of skin (the dermis), the dermis is located only 1.35-2 mm deep within the skin!
Related Content - Wrinkle Reduction and Collagen Structure
Summary
My aim is to use the shortest needle depth to achieve the best results. Client comfort is always top of my priorities. I do not apply any anesthetic prior to treatment, as it is just not necessary when you follow good technique and target specific sections of skin to achieve results rather than a painful 'one depth suits all' approach.