The Anti-Ageing Benefits of Regular Facials
Anti-ageing - Cell Renewal
Anti-ageing is linked to cell renewal, a natural function that your clever body is constantly undertaking, with this in mind, your body has to draw upon its own resources to aid cell renewal, so what you are putting in your body and on your skin will effect this process.
What you are putting on your skin and in your body will effect cell renewal
Anti-ageing - Cell Process
As soon as the day you are born the ageing process begins (okay you might think settle down Mhairi but it's true). As babies the cell turn over process takes two weeks, as teens it takes three weeks and once you are past your teens your skin renews once a month. The cell turnover process continues to slow as we age, after the age of 50 your renew time dips again to 6-12 weeks!!
Anti-Ageing - Cell Regeneration
Throughout your lifetime your skin will change constantly (for good and bad depending on what you are doing to take care of it at different times in your life). Proper skincare is essential to maintaining the vitality of this protective organ.
Of course, it is not just your skin cells that renew, it's every cell in your body. Your liver for example is a super regenerator, these hardworking cells deliver you a whole new liver every 6 weeks!!! Your liver can fully regenerate its self even if only 25% of it remains! Your taste buds change every 5 to 7 years, that is why you'll find that you begin to like the flavour of some things but not others. When your new taste buds erupt it's the best time to try new kinds of foods and flavours.
Regular Facials Aid Cell Turnover
Anti-ageing Benefits
The skin has three layers, the epidermis, dermis and hypodermis. The outer skin layers of the epidermis are constantly replacing themselves, it's a shedding process. There's up to 30 layers of dead cells attached to your skin surface, they have carried out cell functions as a living cell and are now attached to the surface dulling your complexion.
Working regular monthly facials into your routine will remove the dead outer layers of the skin to reveal younger looking healthy cells whilst encouraging the skin to renew and enhance cell division to increase new cell production.
Regular monthly facials will encourage cell renewal
Anti-ageing Products - Cosmeceuticals
The use of cosmeceuticals that contain bioactive ingredients give the skin all it requires for cell renewal. These bioactive ingredients include botanicals, peptide chains and plant stem cells.
Anti-ageing Products - Stem Cell Technology
Stem cells are found in all self-renewing tissues including the skin. Stem cells have the potential to develop into many different cell types in the body. When a stem cell divides, it can remain a stem cell or become another type of cell with a more specialised function, such as a skin cell.
Anti-ageing Products - Skin Stem Cells
Skin stem cells are found near hair follicles and sweat glands and lie dormant until they receive signals from the body to begin repair. For instance, the micro-trauma caused from a micro-needling treatment will trigger your skin stem cells giving them signals to release the proteins, carbohydrates and lipids to help repair fine lines wrinkles and maintain firmness and elasticity.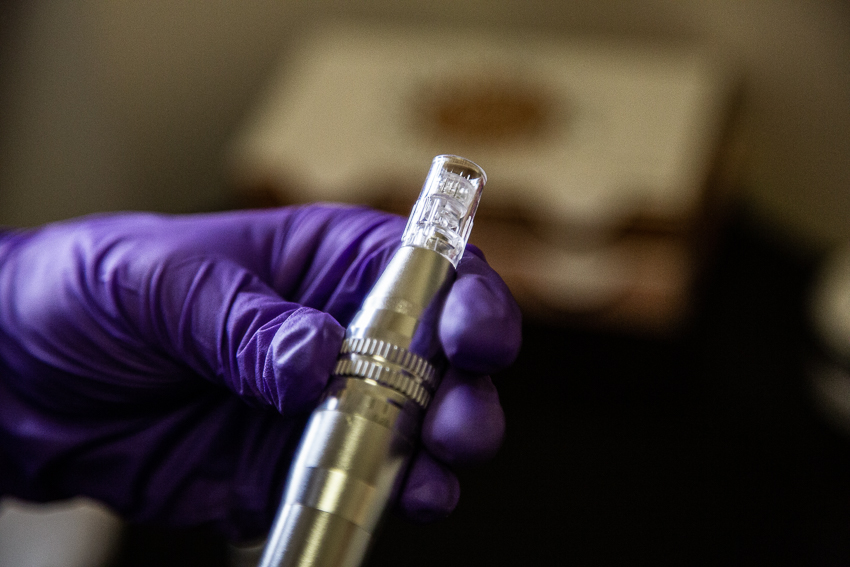 Micro-needling triggers your skin stem cells
Anti-ageing Products - Plant Stem Cells
Where topical skincare products are concerned, like the stem cells in my cosmeceutical Genosys serums, there are no human stem cells. Skincare specialist are not using embryonic stem cells.
Instead plant based stem cells are used to encourage the skin to repair and regenerate like it did when we were younger. Plant based stem cells can become any type of cell within a plant but not an animal, if they could we would already be using plant stem cells to ethically grow replacement organs and for other medical purposes.
Plant based stem cells function in cosmeceuticals is to help protect human skin stem cells from damage and deterioration. Plant based stem cells are already a big part of our daily lives. They help produce the air we breathe and the food we eat give our body's energy.
Summary
Skin cells are constantly renewing and from a skin health and anti-ageing perspective you want this to keep happening as quickly and efficiently as possible (ideally as close to the two weeks it took back when we were infants!)
To do this you need to incorporate professional facials treatments to shed the build-up of dead cell layers, cause micro-trauma to send signals to your stem cells to renew and incorporate plant stem cell rich products to help protect and prevent the deterioration of your own stem cells. Once you start putting elements of this altogether, you'll be surprised how quickly your skin can appear younger healthier and more vibrant.
If you would like a free consultation to discuss the best facial options for your skin concerns, click to book your consultation.