Dermapen and Dermaroller for Anti-ageing Benefits
You might have started to notice a few little signs of ageing recently and with so many options out there from invasive cosmetic surgery, Botox and fillers to the more natural approach, it's a bit of a minefield as to which is the best route. In this article I am going to explain the advantages and disadvantages of a dermapen and dermaroller.
You have likely weighed a few of these options up and decided that a more natural approach is a good place to start but do you try at bit of DIY skin rollering, you've seen the clips on social media but is this for you?
Perhaps you feel like it's a better idea to leave it to the professionals and book in for a micro-needling treatment with what looks like a pen device?
Dermapen and Dermaroller: What are they?
Dermapen vs dermaroller? Both are a type of skin micro-needling. The 'Derma' part actually refers to a certain brand of device; a Dermapen ® is a brand of micro-needling automated pen device used by skincare professionals and a Dermaroller® is a needled skin roller device that can be used at home.
Advantages of a Skin Roller
# 1 Affordability; Cost of a Skin Roller
You can purchase a skin roller device and it should not need replaced for around 6 months (but not if you drop it, never use your roller with bent needles)
You can pick up different brands of skin roller for around £9.99 but they do range up to £89.99.
The more expensive skin rollers are still less expensive than a single professional micro-needling treatment which can range from £90 to £250 per session depending on the size of the treatment area, products used and your location in the country.
Bearing in mind you will get several uses out of one skin roller, the savings will soon add up with the DIY method of skin needling.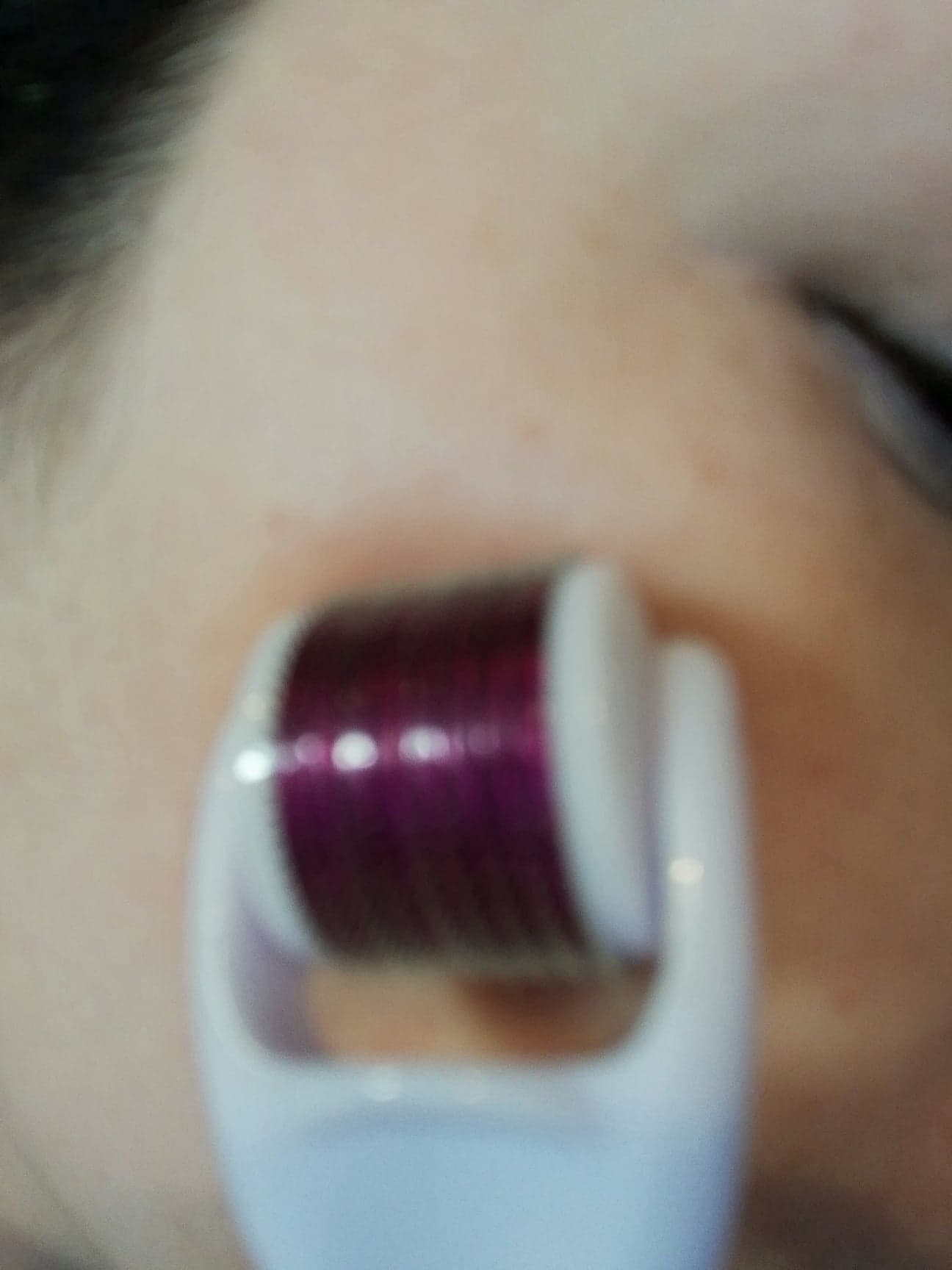 Just keep the pressure light
# 2 A Skin Roller is Simple to Use
Skin rollering is easy to get the hang of, the important thing is not to go over the score and do what feels comfortable to you.
You want to do enough rollering to cause trauma and kick start your collagen production but it shouldn't be excessively uncomfortable.
Start off small and over time you can build up the amount of skin rollering you do.
Even one or two passes over the skin with a shallow 0.25 mm roller will create channels in the skin so any products that you put on after rollering will penetrate deeper into the skin than if it was just applied topically.
You have to be careful what products you put on your skin, after rollering, if you put greasy products onto your skin they will clog your pores and give you breakouts, stick to micro-needling specific products.
# 3 Use your Skin Roller when you feel like it
You can skin roller whenever you feel like it, in the comfort of your own home.
No need to worry about who is going to see you coming out the treatment room with no make-up on and a red face doing the dash to your car.
You don't need to call and make an appointment, sometimes the appointment you have made is not convenient when the time comes, you have kids clubs, meals to make and all the other 101 things on the to do list.
The time you have for yourself might be after 9 pm once the kids are in bed, you can sit and relax and have peace and quiet to do your skin care routine
Rocking the dressing gown
You can roller in the comfort of your own home
Disadvantages of Skin Roller
# 1 A Skin Roller is more painful to use
The motion of a roller pulls the needles in a more horizontal action across the skin. This creates a drag effect which leaves micro-tears in the skin.
It causes the trauma required to boost collagen production but it is more painful than using professional micro-needling automated equipment with a longer post treatment recovery time.
You will find that you will need to use a skin roller with a significantly reduced depth and for much less treatment time than with a professional micro-needling device.
# 2 You can't adjust the depth of a Skin Roller
The depth is not adjustable on a skin roller therefore you may need to purchase more than one depth of skin roller to perform a proper full-face treatment.
A shallow mini roller of 0.25 mm needs to be used on the delicate skin around the eye area to treat hooded eyes and crow's feet.
A deeper 1 mm roller can be use around the rest of your face however this will be painful along the forehead where there is little fat. Even on the fatter parts of the face a 1 mm roller will soon be painful without numbing cream.
A shallower 0.50 mm skin roller can be more comfortable and used for a longer period on your face and will give more channels in the skin for product penetration and to kick start your body's natural collagen induction.
# 2 A Skin Roller head is non-detachable
A skin roller cannot be dismantled. The roller must be sterilised before or after every use which adds extra time to your treatment. Always remember to put your dermaroller back in its sterile case once you have used it to protect it from microbes.
This can be done using boiling water, you can pour some in a cup and leave the roller in to kill any microbes, it is best to do this after you have used it to reduce the chances of burning the skin if the roller is not cooled down enough before use.
Another option is a sterilising spray either alcohol based or a more natural colloidal silver based product. Sterilisation products are an additional cost factor to add onto at home skin rollering treatment.
Advantages of Professional Micro-needling
# 1 Micro-needling cartridges are less painful
The needle cartridges used on a micro-needling automated pen work in a vertical straight up and down motion that does not tear the skin making for a more comfortable treatment compared to the drag motion of a skin roller.
Many more channels can be made in the skin at a deeper depth without the use of a numbing cream.
For example, to use a 2 mm skin roller on the face would be very painful and would be almost intolerable without numbing cream due to the tearing of the skin.
This would be manageable with an automated micro-needing pen allowing more channels to be formed giving enhanced anti-ageing as the skin can naturally release more collagen reducing the appearance of fine lines and wrinkles whist keeping your natural look.
Related content – Is Micro-needling Painful?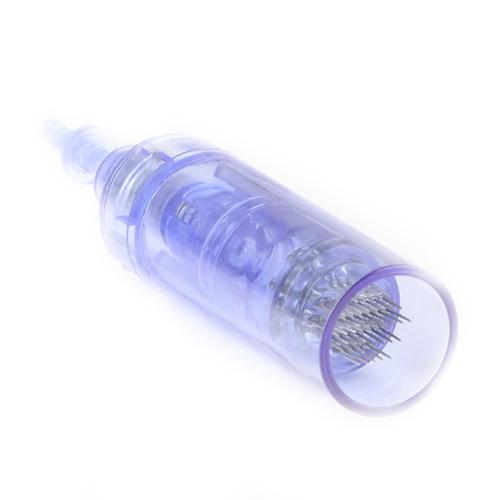 Vertical straight up and down motion
Much less painful than the drag from a roller device
# 2 Micro-needling pen has an adjustable needle depth
The ability to adjust the needle depth on a professional micro-needling pen allows for the treatment of many skin concerns in a single session, this can also save money as you will not require multiple treatments for different skin concerns.
It is simple to go in deeper whilst working on scar tissue or to tighten sagging skin around the jawline to lift jowls. Then in an instant switch to a shallow depth where the skin is thinnest to treat ageing concerns around the eyes like crow's feet, dark circles, eye bags and hooded eyes.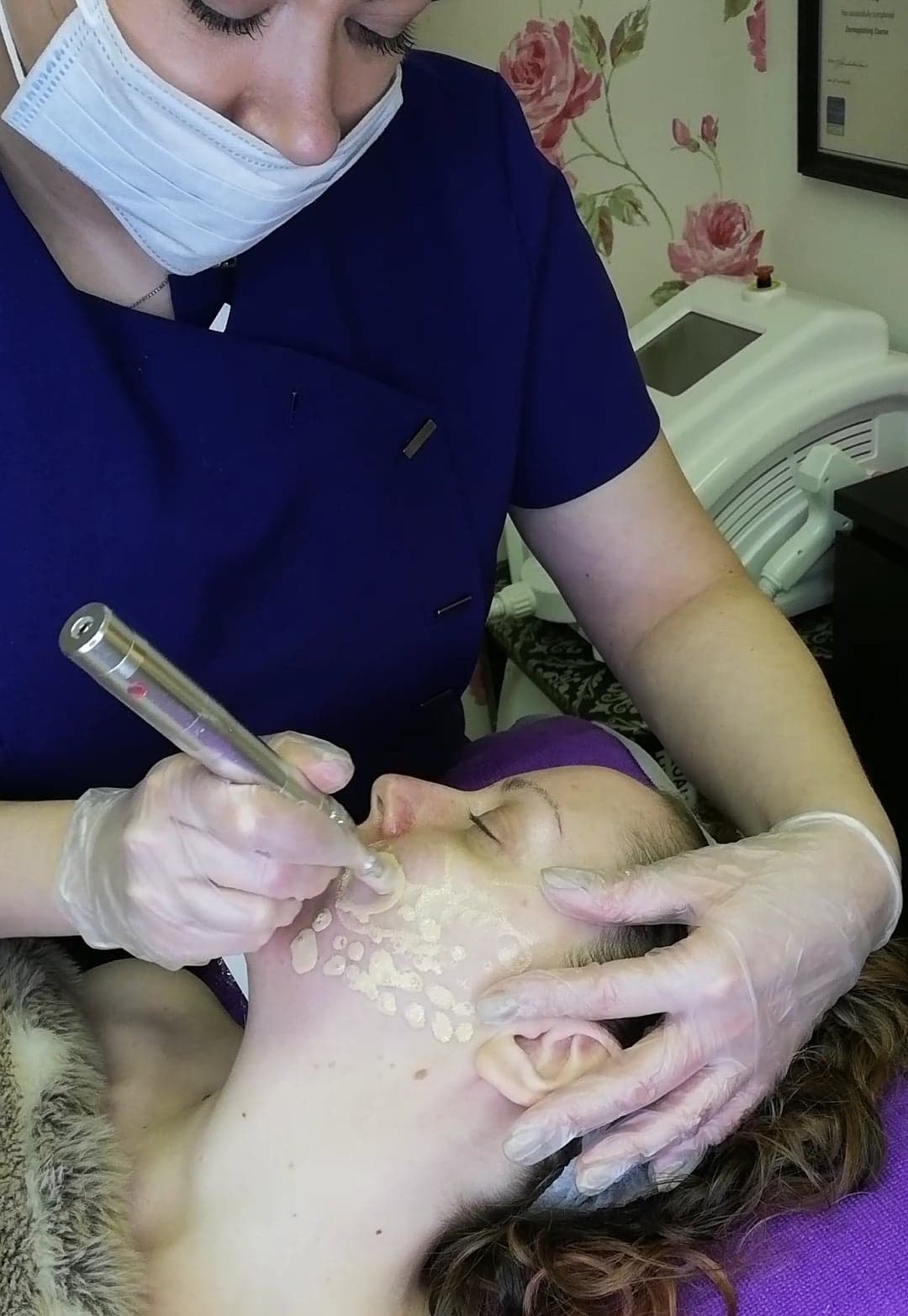 Professional Micro-needling treatment
BB Glow semi-permanent make-up
# 3 Micro-needling is performed by a trained professional
Paying for a professional treatment gives you the peace of mind that your treatment is performed correctly by a trained professional with quality equipment.
You will receive accurate aftercare advice and a run down of possible side effects to look out for post treatment.
Do a bit of research before you book in with a skincare professional. Good ones will usually offer a free consultation where you can get a feel for the professional and the treatment surroundings. You can ask to see the equipment and before and after pictures.
Check social media pages and read reviews to see what previous clients have experienced.
Disadvantages of Professional Micro-needling
# 1 Micro-needling treatments are more expensive
Micro-needling professional treatments are more expensive than purchasing and using a roller yourself at home. The micro-needling device used by skin care professionals are expensive to buy. They must invest in training and insurance in order to carry out treatments.
The products used along with professional micro-needling treatments are high end quality products that contain the peptides, extracts, vitamins and antioxidants to aid micro-needling results.
Skin care professionals will often offer a discount option on committing to a treatment block of treatments to encourage clients to benefit from a course of treatments which is one way to save a bit of money on professional micro-needling.
# 2 You have to make and keep Micro-needling appointments
To keep up with professional micro-needling you need to commit and hold appointments.
There is often a fee associated with last minute cancellations, that can range from 50-100% of the cost of your appointment if missed or cancelled within 24 hours.
To avoid this, make sure to book your appointment at a time that is convenient and make this appointment at the same time and day each month, that way you will get into a routine and be less likely to miss your appointment.
You can also use the calendar on your smart phone to set appointment reminders or ask that your skincare professional send you a reminder message before your appointment.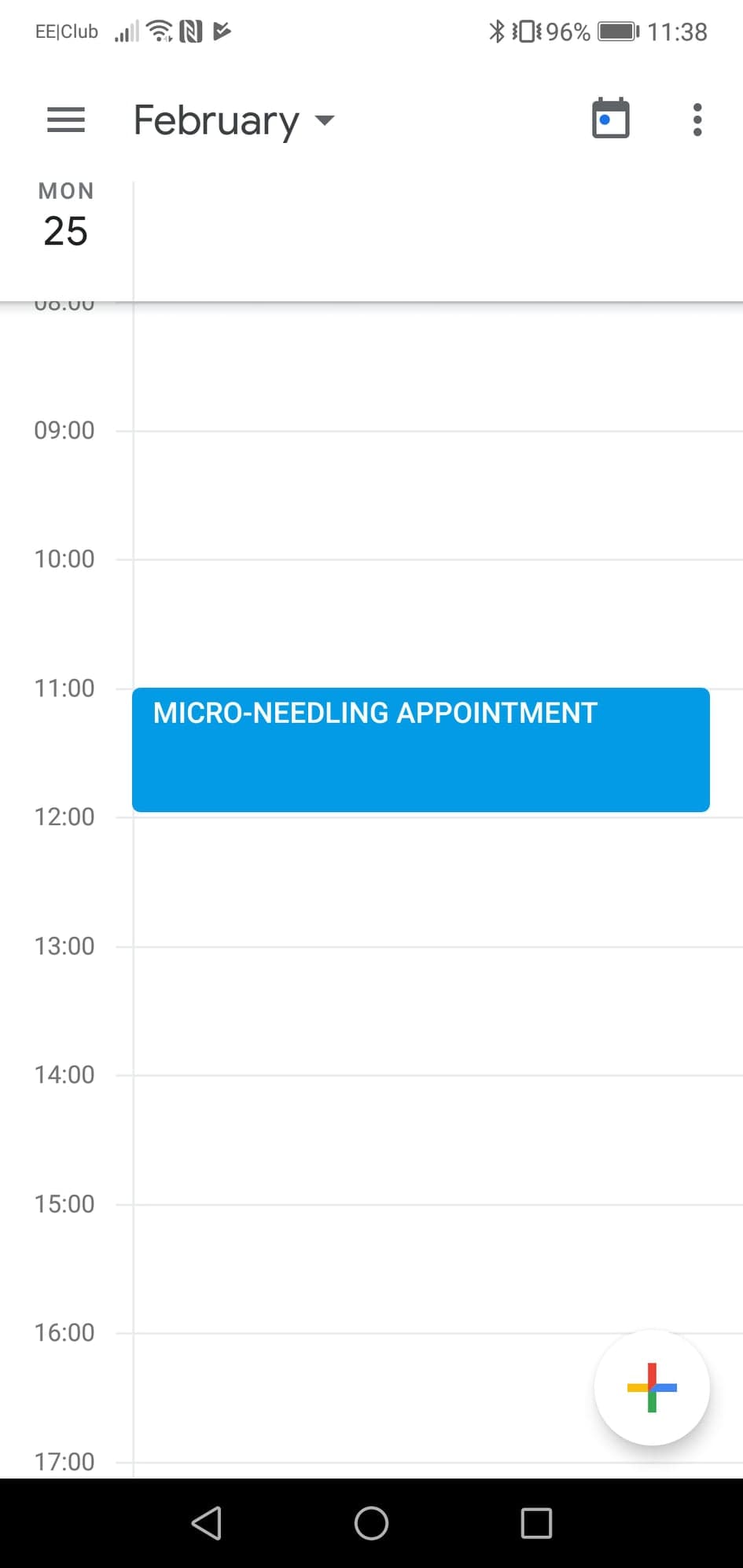 To avoid the sting of cancellation fees
# 3 A Re-usable Skin Roller is better for environment
The disposable plastic needling cartridges required for professional micro-needling pens and the incineration of these is not environmentally friendly.
Although skin roller devices are made of plastic, they are re-usable and have a much smaller carbon footprint than disposable needle cartridges and the wrappings to keep them sterile.
Summary
A DIY home skin roller is a more affordable option that gives you the flexibility to do it as and when the feeling takes you, although to do this treatment effectively you may need to purchase more than one roller with differing needle depths.
Professional micro-needling treatments give you the peace of mind of proper aftercare advice. You receive a more tailored approach with the ability to treat many different skin areas and concerns with an adjustable needle depth during a single treatment. However, you must commit to holding appointments and from an environmental point of view the re-usability of an at home skin roller is more beneficial to the environment.
If you are in doubt about the best route to take seek some advice from a skin care professional to kick start your body's journey into natural skin enhancement.