Do you feel like you have constantly tired, heavy and baggy eyes? You're probably short on free-time to go for facials, and short on cash for expensive eye creams!
Lack of sleep, running around after the kids or maybe a few too many balloon glasses filled with pink gin and tonic (hiccup) have led to the appearance of tired looking eyes.
There are some at home remedies for tired eyes that are quick and won't cost you the earth. I've tried and test out 6 of the best known, at home pick-me-up treatments. Read on to find out more about my tried and tested 6 at home remedies for tired eyes.
Tired Eyes Remedy # 1 Rose Water
Benefits for tired eyes - rose water
Rose water is highly valued within the skincare industry and works as a great skin toner, especially for sensitive skin types. It will help those who use heavy eye make-up that can often cause irritation to the eyes.
Rose water contains natural anti-inflammatory and anti-bacterial qualities that will give relief to tired irritated eyes.
how to use
Soak two cotton pads in rose water (preferably, keep your rose water in the fridge) and place over the eyes for ten minutes.
my rating
MY RATING 5/5 - Amazing results!! My eyes felt great, less puffy and I felt a soothing effect to my under eye area! Rose Water is a winner!
Related Content - Flower Power Picks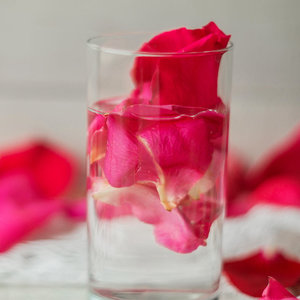 Tired Eyes Remedy # 2 Potatoes
Benefits for tired eyes - potatoes
Potatoes I hear you cry! Yep, the humble potato, we are used to having them fried, baked or mashed, but they contain enzymes, vitamin C and starch that nourish the thin skin around the eyes.
Potatoes also hold natural skin bleaching qualities to help balance out those pesky dark circles; This is due to an enzyme called catecholase.
TOP TIP - You can use grated potato and its juice as a nourishing face mask.
How To use
Slice up a potato into thin slices and place a slice over each eye, leave for ten minutes.
my rating
MY RATING 2/5 - I felt minimal benefits for my eye irritation. The day I tested the potato slices, I was not feeling great, and it was at 5 am. I'm not sure if anything would have cured my bloodshot eyes :-P
Perhaps trying potatoes everyday for a week would hold more beneficial results. Don't totally ditch the potato - more long-term use is required to garner results.
Tired Eyes Remedy #4 Gel Eye Mask
Benefits for tired eyes - gel mask
A gel eye mask can reduce puffiness, dark circles around the eyes, and inflammation caused by allergens.
Gel eye masks also hold therapeutic benefits, such as relaxation to aid in sleep.
How to use
Refrigerate the gel eye mask for 60 minutes so its nice and cool. Place around the eyes and leave for 10 minutes.
My rating
MY RATING 1/5 - I did't feel very much benefit from using the gel eye mask, in fact, my eyes felt really fuzzy after and took a minute or two for my vision to clear. The gel eye mask missed the mark for me this time.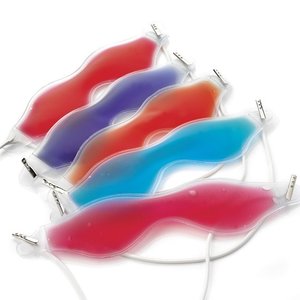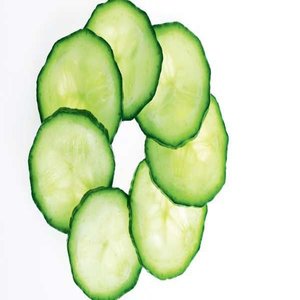 tired eyes remedy #4 Cucumber
benefits for tired eyes - cucumber
Cucumbers have powerful antioxidants and flavinoids that are thought to reduce irritation.
The coolness of cucumber slices act as a vasoconstrictor - eye puffiness can occur when your blood vessel dilate and swell. The cool temperature of the cucumber, assists in constructing those blood vessels, and in turn, relieve puffiness.
how to use
Slice up some cucumber straight from the fridge and place over your eyes for ten minutes.
my rating
MY RATING 5/5 - It's an oldie and a goodie. My eyes felt immediately refreshed and less puffy.
I've just had a 10 minute break in the middle of writing this blog, and made a smoothie with cucumber and sliced some for my eyes. I just felt compelled by the cucumber - go on, whap some on those peepers! Bliss!!
Related Content - Skin Beauty Benefits of Vitamins
Tired Eyes Remedy #5 Green Tea Bags
Benefits for tired eyes - green tea bags
Green tea bags reduce swelling and tighten the skin around the eyes. The caffeine reduces puffiness by shrinking the blood vessels.
Green tea is renowned for its anti-inflammatory properties and the tannins stimulate healthy blood circulation.
How to use
Place two used green tea bags over your eyes for ten minutes.
My Rating
MY RATING 4/5 - There was a visible improvement in the appearance of my eyes with green tea bags. My eyes felt more alert and rejuvenated. Watch the temperature of your tea bags!! Make sure they are sufficiently cooled before you pop them on.
tired eyes remedy #6 milk
benefits for tired eyes - milk
Milk is a natural soother if eyes are irritated and puffy. Ingredients in milk that calm swollen eyes include protein, amino acids, lactic acid, and vitamins A and D.
You can use full fat milk, soy milk, almond milk, milk cream or breast milk. If your skin is allergic to milk or lactic acid then avoid using it as it may cause a reaction.
how to use
Pour milk into a bowl and add ice, so it gets really cold. Saturate a cotton pad and leave on your eyes for ten minutes.
my rating
MY RATING 4/5 - There are definitely soothing qualities in milk that improved the feeling of tiredness in my eyes. Ten minutes with cotton pads soaked in milk will combat swollen eyes. Don't forget the ice cube, the cooler the better.
Related Content - Anti-ageing Benefits of Regular Facials
Summary
Tired eyes can be exaggerated from excess sodium in the diet, smoking and alcohol - they all contribute the fluid retention around the eyes. Trying to reduce these triggers along with ………yeah you've guessed it, keep guzzling that lovely H20! Keeping hydrated will help to elevate tired and puffy eyes.
Tired and puffy eyes should only be a temporary condition (if you are having long standing problems it can be a sign of allergies, eczema or other medical issues, make an appointment with your GP).
Cucumber, rose water, green tea bags and milk all gave an improvement to my eyes. One of the key aspects is the cooling effect, that constricts the swelling of blood vessels, reducing eye puffiness.
Gravity can also play its part, if you sleep face down, fluid will settle under the eyes - try sleeping with your head elevated to reduce fluid retention under the eyes. Activities to promote lymphatic draining such as exercise and under eye massage can help the appearance of tired eyes.
If you would like to find out more about some of my treatments, that can help with tired looking eyes, click on the link for a free consultation