You can achieve amazingly good skincare facial treatments yourself at home! Don't believe me? This easy to follow guide will give you astonishing results, that you can easily learn yourself, and cost next to nothing.
I understand not everyone has the money to drop on regular professional facials every month. However, working regular facials into your skincare routine gives many skin benefits. Having great skin is all about consistency.
You might feel that your skin is a bit washed out and dull lately, or a bit spottier than normal and want to build a little more into your home skincare. It's this that has led you to think more about doing facials at home.
You know you're meant to cleanse, tone and moisturise, but what order are the steps and when are you supposed to steam? Should you steam as you've heard that can bring out spots? I am going to give you some amazing, yet simple techniques; from how to deal with blackheads in the right way, to the effects of steam on the skin and how using different face masks can make a real difference to your skin. Read on to find out more.
Skincare Facial at Home: Before you get started
Find out your skin type
Using the wrong products for your skin type can cause skin problems. So firstly, we want to make sure you know your skin type; cleanse your face with your usual cleanser and don't put any products on your face, then wait for 30 mins.
Normal Skin Type
If your skin feels fine and looks healthy with no oily or dry patches, you have a normal skin type.
This is what we are all striving for, but very few of us will have this glorious skin type. Normal skin is neither too oily or too dry, it is just right
Dry Skin Type
If your skin feels dry and tight all over with skin feeling flaky, you have a dry skin type.
If you have a dry skin type, your skin is producing less sebum (oil produced by the glands in our pores) than a normal skin type. Your skin can feel dull and rough.
Oily Skin Type
If your skin feels greasy and has a shiny appearance, you have an oily skin type.
If you have an oily skin type, your skin is producing more sebum than a normal skin type. Your skin will have a glossy shine and visible pores.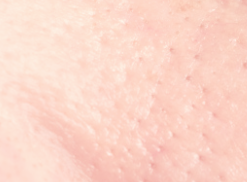 Combination Skin Type
If your skin feels tight only on the cheeks and a shiny appearance on the T-zone, you have a combination skin type.
This is the most common skin type. If you have combination skin, you will have a mix of both dry and oily skin types, commonly presenting with an oily T-zone and dry cheeks.
Sensitive & Acne Prone
There's another couple of skin concerns I would like to point out that are not classed as a skin type but will still very much effect how you treat your skin.
Those with sensitive skin; where the skin does not like a change in skincare products or more abrasive products and those whom are acne prone; where your skin is prone to flare-up's.

Double cleanse your face
The first cleanse is make-up removal. I'm not a huge fan of make-up remover wipes, as they leave residues on the skin that can be an irritant (my skin doesn't like them, I get itchy eyes). However, wipes can be used followed by a cleanse at the sink. I prefer to use a gentle make-up remover on a cotton pad.
The second cleanse should be with a foaming cleanser or cleanser your skin is used to. I use a foaming cleanser, massage into the skin and neck in circular motions and wash off with lukewarm water then pat down your face with a towel.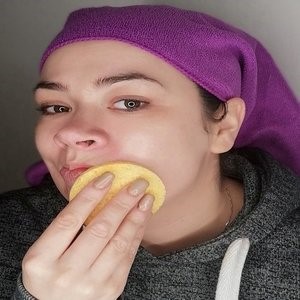 Skin Toner
Choose an alcohol-free skin toner. Everyone should tone, but even more so for those with acne prone oily skin (this is me). It helps control oil production and cuts through the residues left from using foaming cleaners. Spray or squirt some on a cotton pad and wipe around face and neck in circular motions.
Check out my blog for more toner tips - Skin Toner! Three reasons not to skip the tone!

Steaming your Face & Extractions
Facial Steam
Steaming the face opens your pores; all the build-up of sebum (oil produced by glands in your pores), dirt and cosmetic residues from wearing your make-up every day, will soften, along with your surface dead skin cells. This makes the dead cells easier to clear away during exfoliation. Steam your face for around 10 minutes.
You can purchase an inexpensive steamer from Argos for around £10 or even better make your own steam bath. Fill up a basin with boiling water and lean over this with a towel over your head.
Will steaming YOUR face cause spots?
Yes, steaming your face draws out impurities that can cause spots but I'm afraid they are going to come out at some point anyway. Best to have an initial steam to get your skin detoxed and in good condition going forward, and the further steps of the facial will help to clear and treat these impurities reducing the chance of future breakouts from steaming.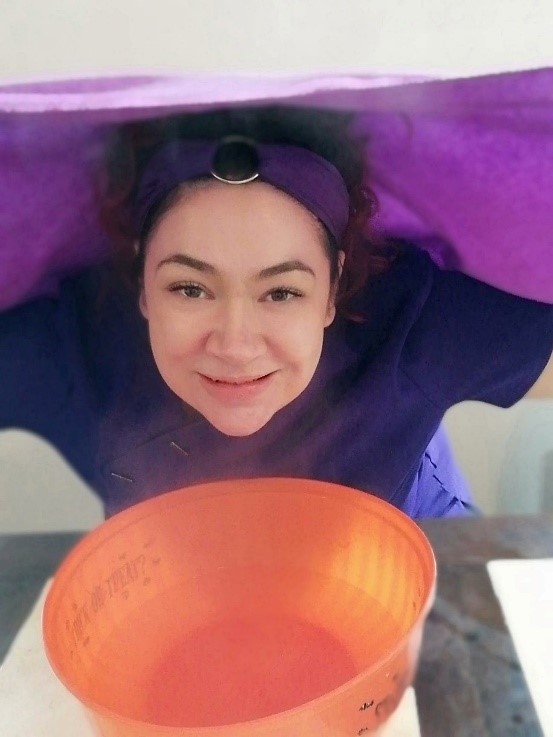 What are facial extractions?
In a guide about facials, I feel that I need to speak about extractions, but I do strongly advise to be very cautions. It is advised to leave it to the professionals, but I have yet to meet anyone who has not had a go at squeezing a spot or blackhead.
An extraction is simply clearing blocked pores. If you feel you must get in at a spot, the only time to touch them is after you have steamed your face to soften the skin and debris in your pores. Picking at skin that has not been steamed, with fingers, can cause acne scarring and pot marked skin.
TRY AN EXTRACTION TOOL
You can purchase a simple extraction tool for blackheads, it's much better than using your fingers. Place the loop over the blackhead and gently press down on one side and move the tool across the top. You want to create gentle pressure at one side and ease out. A blackhead will come out as a plug.
Don't overdo it with extractions. Once you start taking better care of your skin, breakouts will become less frequent and severe.
The action of steaming can often be enough to drain a whitehead (spot). Wipe with a cotton bud and the debris will come away. If not, don't squeeze the spot as this will push the pus down further into the pore and can spread infected material into the surrounding cells. Just leave it and treat with a suitable face mask or dab a bit of diluted tea tree oil on the area a bit later, before moisturising.

Exfoliation
Anything that you put on your skin after exfoliation is going to penetrate the skin much better. This is because you have helped to shed the surface dead skin cells that are dulling your complexion and creating a barrier to your healthy cells.
You can use a gentle scrub to exfoliate, massaging the skin in circular motions around the face and neck. You don't need to use heavy pressure as aggressive exfoliation can damage your skin's natural barrier.
If you are a bit wary of physical exfoliating, you can also opt for a gentle enzyme peel product like pumpkin or papaya, to remove surface dead cells.
Face Masks: There's so many types!
Face masks come in many forms. Essentially, there are mud masks that help to pull impurities out of the skin, exfoliating masks to remove dead cells and sheet masks to add goodness and hydrate. There's also little nasty pore extracting strips, please avoid these! They are too abrasive and totally strip the skin. Your skin needs some oils, if you remove too many of your oils, your sebaceous glands go into overdrive and over produce oils causing breakouts.
Here's my product review video for the Shills, Peel-off Mask.

Moisturise (Optional Facial Massage)
Moisturiser: What does it do?
It's time to slap on your moisturiser. A moisturiser is a topical product designed to maintain optimal levels of oils and water in the skin. The product might be a cream, lotion, serum or oil.
Did you know a moisturiser does not moisturise?! It's role is to prevent, or slow moisture escape from the skin surface. Most formulas are a blend of water and different levels of three agents; occlusive - to lock in water molecules, humectant - to attract water molecules and emollients - lipids that fill in cracked skin. Basically, moisturisers increase the skin hydration level by reducing evaporation. Always look for a moisturiser with a high factor SPF.
Want more info about what's in beauty products? Check my blog about the Beauty Benefits of Vitamins
Facial Massage
Finish off your facial with a bit of relaxation. Tense facial muscles increase the stress on your skin causing those pesky expression lines. Regular facial massage will keep your facial muscles toned, relaxed and help to increase blood and oxygen flow to the face.
If your skin is acne prone or sensitive, be gentle and just do a few minutes of massage, other skin types can handle a bit more.
You could try using facial ice globes to massage your face after an at home facial, here's my facial globe review video with more information.
Summary
Facials Clear your Pores and Dead Skin cells
Working regular facials into your routine will help to keep on top of pore build-up. Cleansing your face every night won't clean away all the residues, pollution, dirt and oils from your pores that attach to your skin throughout the day, so a good steam and mud mask will help to pull out these impurities.
Exfoliating will aid cell renewal, which in turn is great for anti-ageing! You want to strip back the layers of dead skin cells sitting on your skin's surface. It lets your healthy cells shine through and brightens your complexion whilst increasing the absorption of your skincare products.
Find out more about cell renewal here Anti-ageing Benefits of Regular Facials
Adapt Facials to treat what is happening to your skin at the time
Face masks are a great and fun addition to your skincare routine, if your skin is sensitive to a change in products, you might want to stick to the more natural gentle approach and not change around your masks too much. Otherwise, try experimenting with different types of masks and use them according to how your skin feels at the time; sheet masks for hydration and salicylic or glycolic acid masks to help treat breakouts. There are millions out there and you don't have to spend the earth.
Know your skin
Enjoy spending time looking after yourself. Massage your skin to relieve the tension of the day, get to know your skin, and what areas feel rough, dry or oily. Keep an eye on changes in your skin; it might sync in with a change in weather, your diet or time of the month - pay attention to any changes and you can track activities or foods that cause flare-ups and you can start to avoid triggers.
Want to book in for a free skin consultation to discuss any of your skin concerns, you can book in online here.